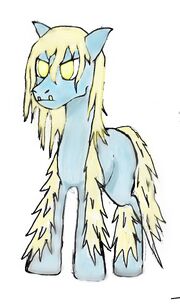 You wish to trade, yes?
He's come quite a long way from his humble beginnings as a horrifying creature lurking within the depths of Canterlot. Now, the Morlock has discovered the wonders of protective clothing to keep that villonous sun demon from melting his skin, and the amazing world of trading! You wish to trade for Rekulks goods, yes? Come come, much to see!
One of the few spared by 32 in the fights and soon to become his right hand Morlock, he eventually grew to wish to see the above world, and was the first to venture out. He now is obsessed with trading.
Relationships
Edit
Ad blocker interference detected!
Wikia is a free-to-use site that makes money from advertising. We have a modified experience for viewers using ad blockers

Wikia is not accessible if you've made further modifications. Remove the custom ad blocker rule(s) and the page will load as expected.